has an extensive playlist of Beatles material. If you have a particular request or preference for your event – just let us know and we'll do our best to accommodate your requirement.
To listen to some samples of our music, or to see video of us playing live – just visit our YouTube channel at : youtube.com/@daytripper321

Remember that these recordings weren't done in a studio – they're taken from recent live performances across Brevard County. This is how the band sounds – no effects, no overdubs, no backing tracks. Just Day Tripper !!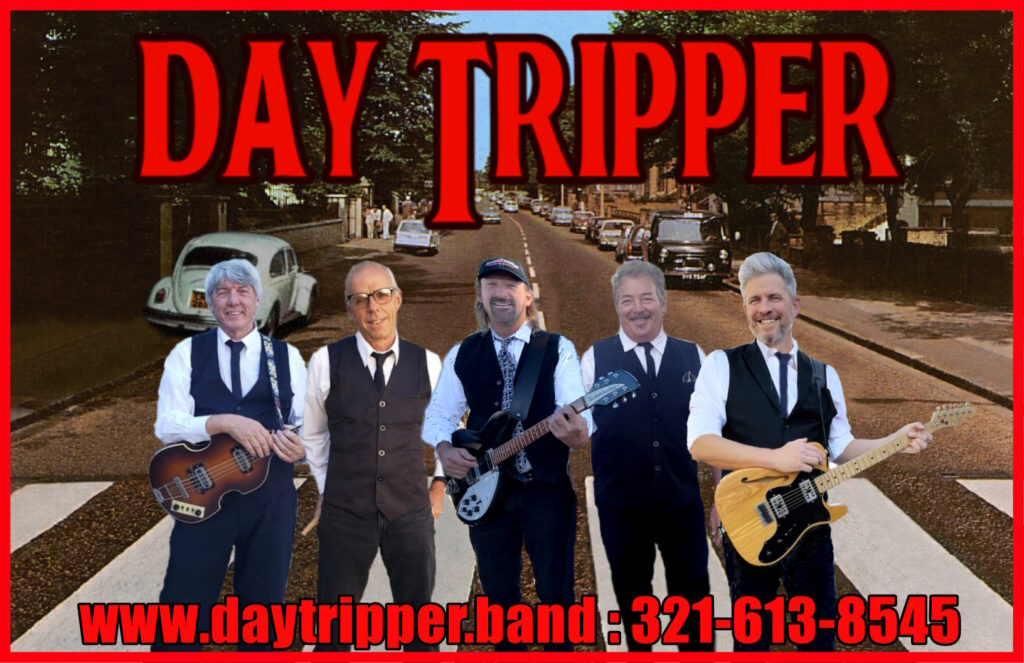 Here's a typical 3 set playlist which would run for around 3 hours
Tell Me Why
Any Time at All
Ticket to Ride
Every Little Thing
A Hard Day's Night
In My Life
This Boy
And Your Bird Can Sing
You're gonna lose that girl
I Saw Her Standing There
I Want To Hold Your Hand
And I Love Her
Taxman
Sgt Pepper
With A Little Help….

You Can't Do That
All My Loving
I Should've Known Better
Help !
Yellow Submarine
If I Fell
Here There & Everywhere
Drive My Car
She Came in Through…..
Please Mr. Postman
Money
Something
Nowhere Man
Back in the USSR
Hey Jude
Get Back
I Feel Fine
She Loves You
I'll Be Back
Mean Mr. Mustard
All I've Got to Do
Long & Winding Road
What You're Doing
Can't Buy Me Love
Obladi Oblada
Let it Be
Golden Slumbers
Here Comes the Sun
While My Guitar….
Twist and Shout